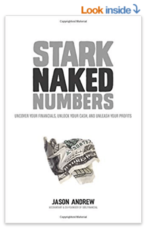 Last month I attended a book launch by a new writer and very experienced accountant Jason Andrew from SBO. For someone who is a "numbers" person, Jason is also quite the creative and visionary—all the qualities you need to be a great entrepreneur! Jason's book Stark Naked Numbers is about using your financials to uncover and understand what is happening in your business.
You may think you are a small business owner when you are employing and managing a team of people. However, if you are chained to that business and unable to take holidays or weekends off and unable even to pay yourself to afford a minimal viable lifestyle, you are still self-employed, and not truly a business owner.
Stark Naked Numbers helps business owners understand where they sit in the Business Owner Pyramid and how to grow and scale in order to move up to the apex of CEO. Of course, systems and processes feature in the book!
Congratulations to our competition winners!
Congratulations to our five lucky winners! Your signed copies of Stark Naked Numbers are on their way! When your prize arrives, you'll be able to learn how to unlock the latent potential of your business by looking at your numbers in a whole new light. The winners represent a breadth of businesses and industries, which is just what we've come to expect from our Way We Do family:
a family-run cabinet making company
a mobile medical testing company
a holiday park
a mobile home dealership
an accounting and financial coaching company.
While Jason Andrew is an Australian author, his principles apply to businesses all over the world, so if you missed out on this draw, do your business a favor and get yourself a copy from amazon.com. And whether you're a winner or not, we're looking forward to hearing your thoughts – and your results – as you read and implement Jason's ideas!
Don't have a Way We Do account yet? Sign up here.