Revision Reminders
Keep your procedures up to date with automatic revision reminders from Way We Do.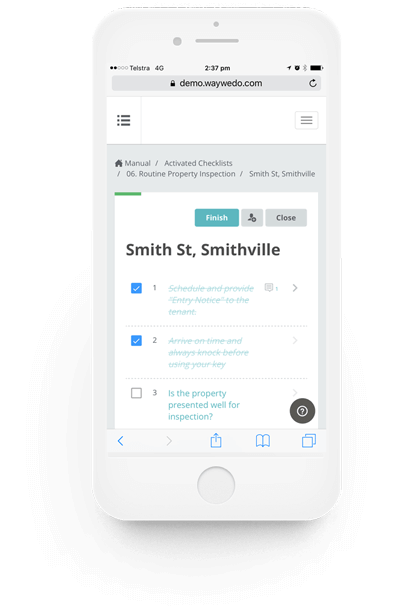 Reasons to Use Revision Reminders
Always Up-to-Date
Revision reminders help editors track policies and procedures and keep them up to date.
Increased Engagement
Team members are much more likely to use policies, procedures and workflows that are accurate and up to date.
Assure Compliance
Revision reminders help editors remember to check for changes in regulations and industry compliance requirements so policies and procedures can be updated accordingly.
Assign Revision Dates

All procedures should be reviewed annually, but some procedures, such as health, safety and compliance issues should be reviewed and updated more often. Way We Do allows you to assign future revision dates to any policy or procedure so revisions are planned as part of the writing and editing process.

Versatile Editor Assignment

Revision reminders can keep up with your organizational needs and changes since it is easy to reassign revision reminders to a different editor without affecting the revision date selected.

Reporting

Administrators are able to view a schedule of upcoming reviews. The report shows the future revision date, a link to the procedure, the assigned editor, the last revision date, and all labels assigned to the procedure.

Email Notifications

A Revision Reminder notification is sent when a review is due. To ensure that the notification is not missed or accidentally deleted, the revision reminder will be sent daily until the date is rescheduled or turned off.
"One of the dirty little secrets of food, beverage and hospitality is people just want consistency, and if you don't have systems and processes, then you can't give your customers a consistent experience."

Amanda Scott, Director, Farm House + Milk Cafes

"Our business has become a lot better since we used it. Any business, from small to large enterprise level corporations would benefit using Way We Do."

Tim Caruana, Project Manager, Web Ninja

"I'm working with Way We Do daily and the more I use it, the more I appreciate the thought and effort you put into it."

Tim Deshler, Director, Deshler's Quality Collision Repairs

"Way We Do has helped us to keep our franchise manual always up to date and available to technicians from a central location."

Mark Stachnik, Franchisor, Drymaster Carpet Cleaning