Privacy & Control
Way We Do honors your desire for privacy, and understands that you need to control who can see the content in your manual.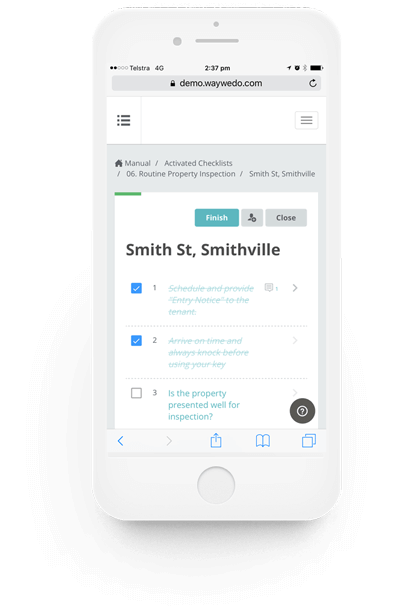 Reasons to Choose Way We Do
Privacy
Keep sensitive content private and secure by authorizing who is able to view it.
Control
Way We Do provides tools to specify who can access content, and restrictions can be assigned on an individual basis.
Relevance
Team members can easily view content that is relevant to their role, which provides a great experience and seamless workflow.
Assign Org Roles

Way We Do give you the ability to specify which organizational roles are responsible for tasks, checklist steps, individual procedures, and policy requirements. Team members that have been assigned to those roles will be the only ones that receive notifications relating to that content.

Restriction

Assign restrictions to policies and procedures to make the content invisible to everyone except the team members who are assigned to the role responsible for the task or information.

Assign Editing Role

Way We Do offers three user levels to help you control the flow of information. General users are read-only and cannot edit. Editors can create, edit and delete procedures. Admins can do everything including adding users and purchasing from the marketplace.
"One of the dirty little secrets of food, beverage and hospitality is people just want consistency, and if you don't have systems and processes, then you can't give your customers a consistent experience."

Amanda Scott, Director, Farm House + Milk Cafes

"Our business has become a lot better since we used it. Any business, from small to large enterprise level corporations would benefit using Way We Do."

Tim Caruana, Project Manager, Web Ninja

"I'm working with Way We Do daily and the more I use it, the more I appreciate the thought and effort you put into it."

Tim Deshler, Director, Deshler's Quality Collision Repairs

"Way We Do has helped us to keep our franchise manual always up to date and available to technicians from a central location."

Mark Stachnik, Franchisor, Drymaster Carpet Cleaning