Embed Rich Media
Bring your policies, procedures and workflow to life and get your team engaged with a variety of rich media such as video, audio, slide shows, forms and more.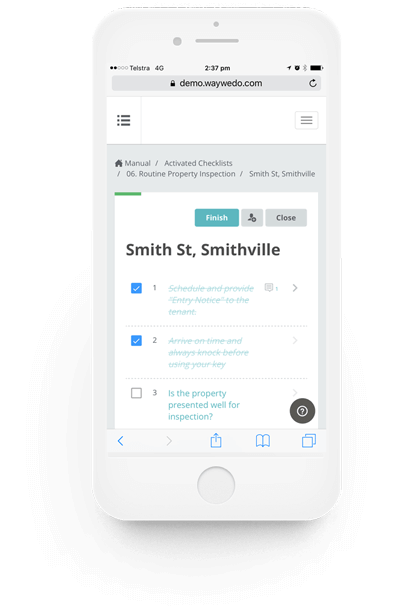 3 Reasons to Use Rich Media in your Procedures
Increase Functionality
You can easily extend the functionality of Way We Do by incorporating functions and content from other platforms directly within a procedure.
Clarify Instructions
Instructions are easier to follow when they are read, heard, and seen by team members.
Increase Engagement
Rich media elements make procedures and policies more interesting, interactive and engaging to users.
Images

Images help to clarify the information being presented, while making written content more interesting for the user. Way We Do allows you to add many types of image files into policies and procedures so your manual is always bright and lively.

Videos

Easily embed videos from any hosting platform to clarify instructions, demonstrate procedures, or provide helpful tips. Embedded videos can be viewed directly in Way We Do procedures, or expanded to full screen.

Audio

Embedded audio players are a valuable tool for increasing understanding and sharing important information with team members. Audio can be played directly from the policy or procedure where it is embedded, so there is no need for users to log out or visit another site.

Forms & Quizzes

Embed forms and quizzes from popular form building platforms directly into Way We Do policies and procedures to easily gather information, test team member's knowledge of training material, and collect reports of incidents and customer satisfaction levels.

3D Walk Throughs

Include facility tours, work site progress reports, and more in your policies and procedures by embedding 3D Walk Throughs. Team members get an engaging, interactive experience, while gaining a greater understanding of what is being described in the procedure.

Presentations

Team members will benefit from watching marketing and training presentations that are embedded directly into Way We Do policies and procedures. Presentations can be embedded from many popular presentation-building platforms such as Prezi, PowerPoint, and SlideShare by simply using the provided embed code.

Spreadsheets & Embedded Documents

Way We Do makes it easy to share and collaborate on documents of any kind. PDF documents and spreadsheets can be embedded and viewed directly within procedures, or attached for convenience in downloading.

Flowcharts

Give team members a visual map to understanding complicated concepts by embedding flowcharts, diagrams and graphs directly into policies and procedures.
"One of the dirty little secrets of food, beverage and hospitality is people just want consistency, and if you don't have systems and processes, then you can't give your customers a consistent experience."

Amanda Scott, Director, Farm House + Milk Cafes

"Our business has become a lot better since we used it. Any business, from small to large enterprise level corporations would benefit using Way We Do."

Tim Caruana, Project Manager, Web Ninja

"I'm working with Way We Do daily and the more I use it, the more I appreciate the thought and effort you put into it."

Tim Deshler, Director, Deshler's Quality Collision Repairs

"Way We Do has helped us to keep our franchise manual always up to date and available to technicians from a central location."

Mark Stachnik, Franchisor, Drymaster Carpet Cleaning