Dashboard
The Way We Do Dashboard creates a personalized experience and simplified workflow for each user.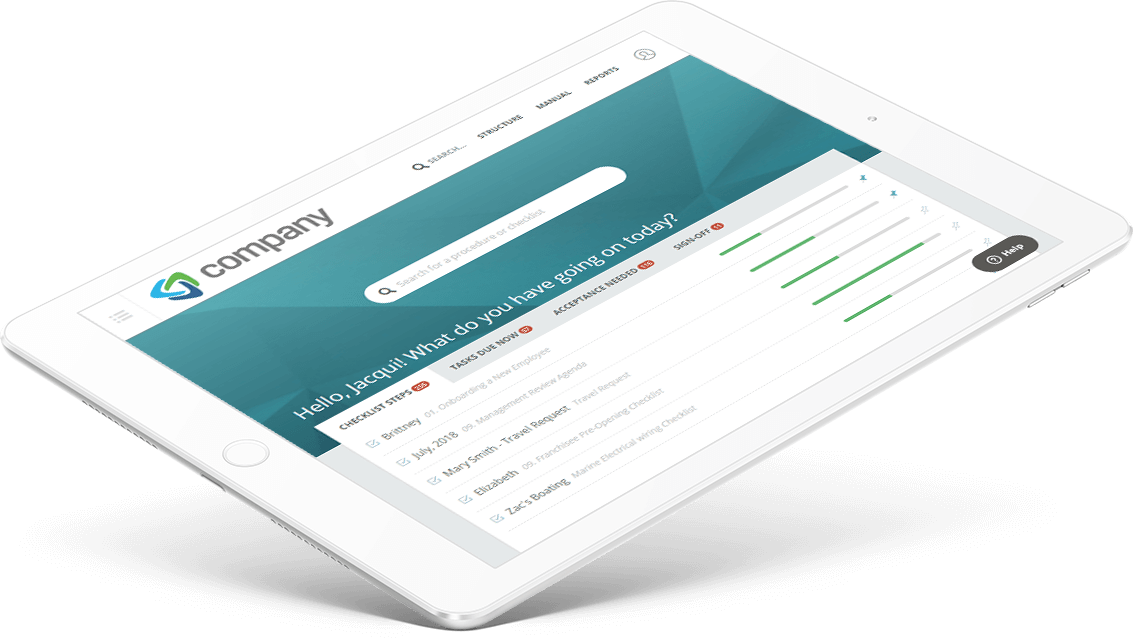 3 Reasons to Love the Way We Do Dashboard
Personalization
The dashboard provides an individual, personalized experience for each user so they always know what is relevant to them.
Easy Searching
Search is prominent on the Dashboard, which enables users to easily search and find policies, procedures and checklists.
Visible Workflow
The dashboard lists the tasks and responsibilities that the user is responsible for so it is easy to find and complete assigned tasks on time.
Everything You Need In One Place
The Way We Do Dashboard is personalized for each User, and beautifully displays the information you need to know when you need to know it.
Checklist Steps
The Checklist Steps tab shows activated checklist instances currently being run that the user is involved in. The progress bar shows how far through the process they are.
Tasks Due Now
The Tasks Due Now tab lists tasks that are due today. Items turn red when they become overdue throughout the course of the day.
Acceptance Needed
Some policies and procedures contain valuable information that is required reading for team members. The Acceptance Needed tab contains a clickable list of these policies and procedures so users can easily navigate to the correct page, read it, and sign their acceptance.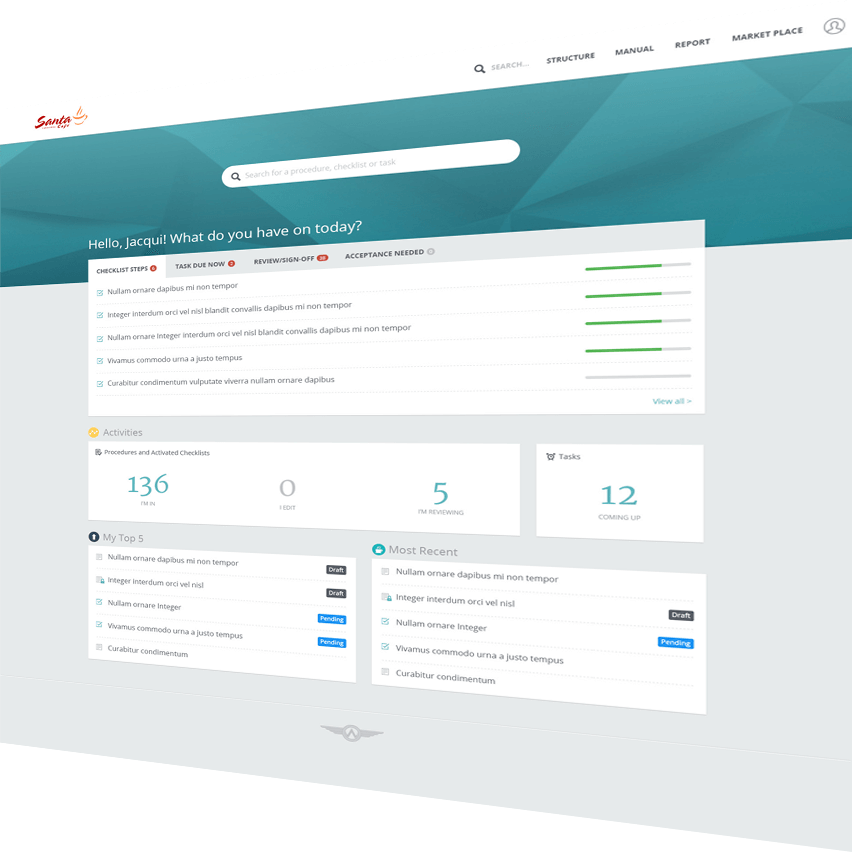 Sign-Off

Managers and supervisors that are required to sign off on Activated Checklist instances have a Sign-Off tab so they can easily view the instance that requires approval and confirm the work has been completed accurately.

Activities

The Activities box shows the total number of procedures and checklists the user is involved with. If the user is an editor, it will display the number of procedures and checklists they are editing, and how many require review. It also displays the number of upcoming tasks. Clicking on the numbers in the Activities box will open the full list of titles that were included in the count.

My Top 5 & Most Recent

Most users find that they frequently use the same policies, procedures and checklists. The dashboard makes it easy for users to find these since the My Top 5 box displays the five items most commonly accessed by the user, and the Most Recent box displays the five most recently accessed items.
"One of the dirty little secrets of food, beverage and hospitality is people just want consistency, and if you don't have systems and processes, then you can't give your customers a consistent experience."

Amanda Scott, Director, Farm House + Milk Cafes

"Our business has become a lot better since we used it. Any business, from small to large enterprise level corporations would benefit using Way We Do."

Tim Caruana, Project Manager, Web Ninja

"I'm working with Way We Do daily and the more I use it, the more I appreciate the thought and effort you put into it."

Tim Deshler, Director, Deshler's Quality Collision Repairs

"Way We Do has helped us to keep our franchise manual always up to date and available to technicians from a central location."

Mark Stachnik, Franchisor, Drymaster Carpet Cleaning